I like waking up to the stunning views of the iconic, flat-topped Table Mountain in Cape Town. One of the most beautiful hotels –maybe I should say resorts- that offers this unique opportunity to its guests is Belmond Mount Nelson. Located on the slopes of this magnificent UNESCO heritage, the hotel makes you feel like you are sleeping in the mountain's shade… Indeed it's a great feeling for a seasoned traveller like me to be so close to nature where at the same time within walking distance to the vibrant city center. Recently I spent a couple of nights which are quite memorable to me and I want to share with you my top 6 reasons to stay at Belmond Mount Nelson Hotel next time you are in Cape Town.
1. CELEBRITY GUESTS
Belmond Mount Nelson Hotel has a 'starry' history. Once a private house, the property was launched in 1899 as the first hotel of South Africa. Guess how many famous people strolled through its colonial corridors… Prince of Wales, Winston Churchill, John Lennon, Nelson Mandela… If only walls could talk, I am sure you could hear beautiful tales… My suggestion is: Sit at Mandela's favorite table and enjoy the colonial grandeur of the history and art surrounding you…
2. I LIKE PINK!
Belmond Mount Nelson was painted pink for peace in 1918. The building is still blushing with pride from miles away. It's so wonderful to sleep in such a historical yet colorful and contemporary five star resort in the heart of the mother city!
3. PARTY WITH A TEA SOMMELIER
Never leave Cape Town without trying the luxury afternoon tea at Belmond Mount Nelson. It's very traditional, historical and world-famous! To celebrate this tradition, the hotel recently introduced a Tea Sommelier, the first of its kind in South Africa. You can taste the best cakes, canapes, sandwiches and delicacies you can find in the city and all of these are served with different kinds of teas in the elegant lovely old-time atmosphere of the Tea Lounge. The hotel's Tea Sommelier is an expert on the vast library of over 40 teas, including 13 new leaf blends introduced for 2018.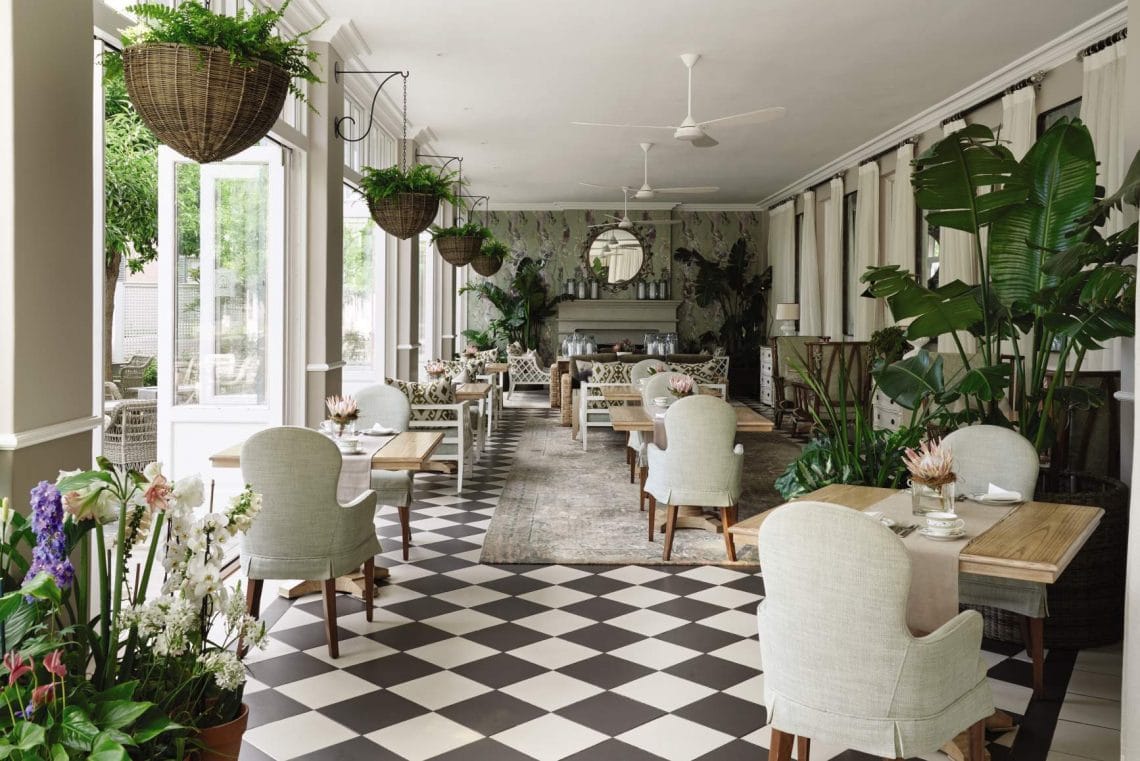 4. HEATED POOLS FOR ALL SEASONS
Isn't it great? Belmond Mount Nelson Hotel has two heated outdoor swimming pools! The Oasis Pool is one of the largest heated pools in South Africa whereas The Cottage Pool is for guests 16 and older only. After you spend the day shopping at the Waterfront or hiking at the mountains, you can relax in these warm waters before the sun goes down…
5. EATING GREEN-ER
The hotel's award-winning chef Rudi Liebenberg is a big supporter of sustainable farming and the farm-to-fork method. The Planet Restaurant is under his supervision and he likes serving the best local produce that he can find. But which strikes me most is that Rudi also strives to throw away as little as possible in his kitchens, in fact he hardly has anything left over to feed the worms in the hotel's growing worm farm. For those of you not in the know: worm farms turn food waste into wonderful organic fertiliser!
6. PLANT SAFARI!
Belmond Mount Nelson enchants its guests with so many surprises. For example you can book for a walking activity to discover the beautiful diversity of the Fynbos of the Cape Floral Kingdom on Table Mountain, one of the world's Seven Wonders of Nature. You should definitely take this walk with the hotel's expert mountain and fynbos guide who will share interesting stories about the "Big Five" plant families of Fynbos –Proteas, Ericas, Restios, Bulbs (Irises and Lilies) and Daisies…
Belmond Mount Nelson Hotel, www.belmond.com/hotels/africa/south-africa/cape-town/belmond-mount-nelson-hotel/about